MAYA
Anti-Viral Super-Protection Sticker.
Captures and Kills Covid-19 Upon Contact.
Sticks To Any Surgical Mask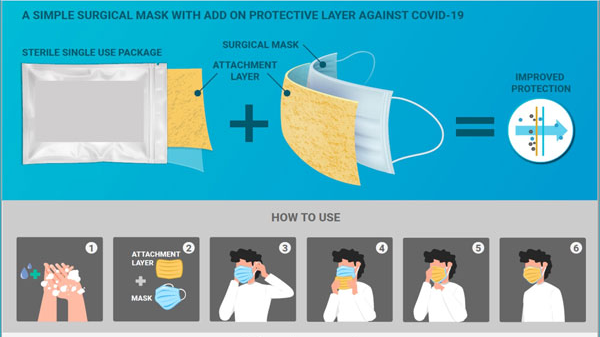 From the innovation of 3 internationally renowned Technion doctors and professors, MayaPatch ™ is a sticker that adheres to any disposable mask or fabric, eliminates viruses and bacteria and prevents their proliferation. This virucidal patch is used in the medical environment in several Israeli hospitals including the famous Rambam hospital in Haifa.
The sticker has been tested on the coronavirus and works, it is used by doctors as well as patients affected by covid-19. The Maya sticker is completely waterproof and prevents viruses of any size from passing through. It captures and then destroys the virus.
The MAYA sticker is composed of nano-fibers soaked with the antiviral agent povidone iodine and is attached to the outer side of surgical masks. The MAYA stickers are produced by 3D electrospinning technology that allow incorporation of povidoneiodine inside the nano-fibers to trap and inactivate viruses.
According to pre- and clinical trials, the MAYA sticker improves the antiviral capacity of surgical masks and face-masks, elongate their effective-period by inactivation of the trapped microorganisms and allow to convert simple home-made face-covers and low quality surgical masks into effective antiviral protectors.
Viruses, transmitted as a result of emitted droplets through coughing, sneezing, breathing, raising of dust, spraying of liquids, toilet flushing, etc. The MAYA Sticker activity is based on three mechanisms of action:
a) Improved filtration of aerosols and saliva droplets by means of low nanometric porediameter and low porosity. The pores are in order of magnitude of tens to hundreds nanometers, versus tens to hundreds of microns in standard surgical masks.
b) Capture of the viruses due to the unique chemical-physical properties of the fiber and the multilayer structure of the sticker.
c) Inactivation (neutralization) of the viruses trapped in the sticker by the biocidal material.
MAYA STICKER
+ Anti-septic | Anti-Viral Covid-19 Anti Virus + Waterproof | Active virucid
+ Active Process 24H
+ Used in medical environment
+ Easy to stick on any type of mask
+ Clinically validated at Technion
+ Approved by the Israeli Ministry of Health
+ Daily used in Israeli hospitals
+ Suitable for public transports
+ Suitable for retirement homes
+ Capture and neutralize the virus
+ Can be touched by hands during and after use
Maya stickers cannot be used by those allergic to Iodine, have problems with their thyroid, or by pregnant women.